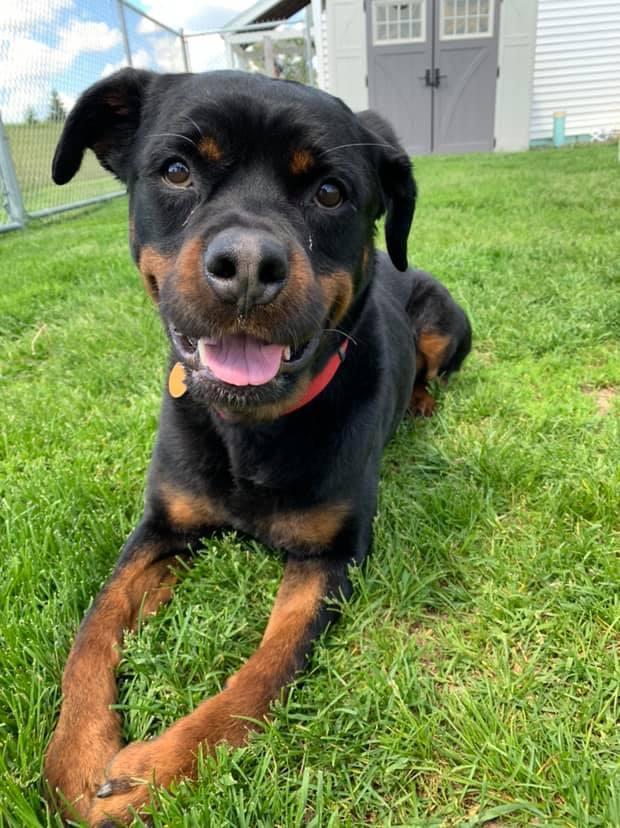 Animal Type: Dog
Breed: Rottweiler
Size: Large
Age: Adult
Description:
Rico is a male Rottweiler born March of 2013. He is a little timid but has a nice personality. Rico will need continued work on socialization to other pets, he knows basic commands. Rico is also on medication for loose stools.
Update 9/23/21: Rico is our longest dog resident. We have to manage his diet and not allow him to eat things he shouldn't (because he will). Rico is a bit of a rascal but loves his chasing balls and shadows. It may also take some time for him to warm up but once he does he loves cuddles and brushing.
Despite being on long-term medication for chronic IBD, Rico shines as a mature gentleman, and is quick to lure you in with his big brown puppy eyes. He has done very well with school aged children and people who come to visit him. He will enthusiastically play fetch and sit nicely for treats and scratches. Rico must be the only dog as he is reactive and aggressive to other dogs.
Personality
** These dogs may require some training, are responsive, and like regular interaction and activity in their lives.
The Wallflower - "Shy yet charming canine searching for patient owner with relaxed lifestyle. Looking for gentle guidance to help me come out of my shell. Treat me sweet and kind and I'll blossom."
Sponsorship Available!
Rico needs a sponsor.
Please help by sponsoring a pet.