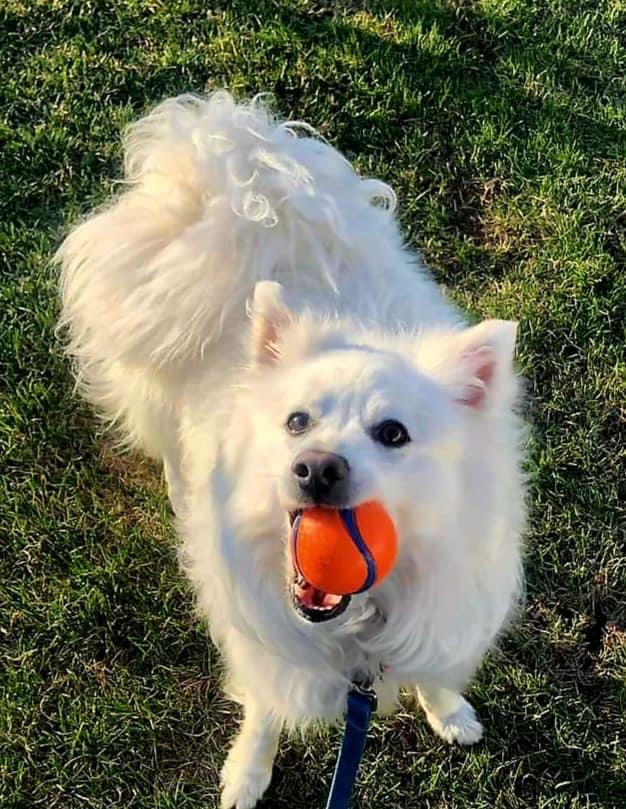 Animal Type: Dog
Breed: American Eskimo Dog
Size: Medium
Age: Adult
Description:
Breckie is a sassy male American Eskimo born 12/9/2019. He has some cage aggression issues which we are working on. He really likes toys when out of his cage. Breckie can be nippy and will need a home with experienced dog owners.
Update 9/23/21: Breckie is doing well with us. He definitely has cage and trust issues. He needs time to warm up to new people. Once he trusts people he loves playing, brushing, exercise and all that is good in life. He's a good boy who needs a chance at new life.
Don't let Breckie's beautiful, snowy white fur coat fool you. He may look runway ready, but he's a master fetch player who will stop to roll in the grass and ask for a belly rub. And with his big bright you know he loves love and would bring joy to his forever family. He does need time to get to know you so a meet and greet or two is required. Despite his quirky issues, we know his perfect family is out there.
Personality
The Busy Bee - I'm a naturally playful, curious, and trusting canine. Take me for a big walk every day; give me something to do. After my job's done, I'll curl up in front of the fire with you in the evenings.
Sponsorship Available!
Breckie needs a sponsor.
Please help by sponsoring a pet.